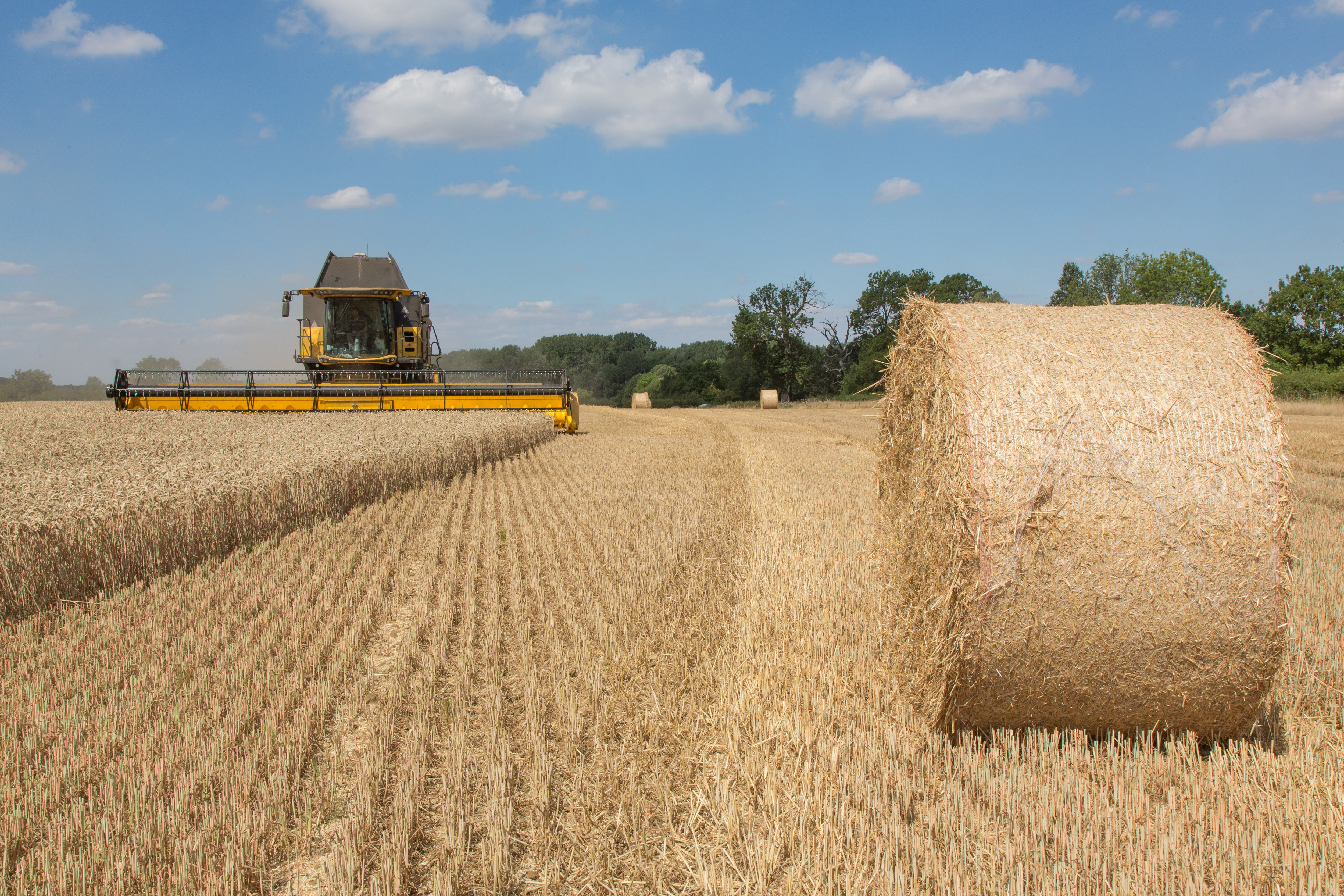 The sustainability of mainstream UK wheat varieties has improved most encouragingly in just two years, according to the latest Agrii Advisory List comparisons.
Updated regularly throughout the season with the latest intelligence, the Wheat Advisory List complements the AHDB Recommended List with extra analyses and statistically-robust data from Agrii's national and regional variety testing programme
Since 2020 it has included innovative Variety Sustainability Ratings (VSRs) to highlight wheats offering the greatest all-round agronomic strength with the least production risk and environmental impact.
"VSRs for the 39 wheat varieties on our 2022 Advisory List are calculated from their scores for 12 key characteristics to provide an unbiased way of comparing the overall robustness and resilience of the available genetics," explains Agrii seed technical manager, John Miles. "They help growers and our agronomists narrow down their initial choices from the plethora of varieties on offer.
"When we introduced the measure two years ago individual VSRs for the 33 varieties on the List ranged from 14 to 30, with 21% rated as high and 36% low. On exactly the same scale, this year's scores range from 17-33, with 62% rated high and only 15% low (Figure 1).
Figure 1: Variety Sustainability Ratings 2020-2022
"What's more, instead of just one variety with a score of 30 there are now six scoring 30 or more, and the number of wheats available with a high sustainability rating has more than tripled from seven to 24," he adds. "This is really encouraging progress in a very short time."
Encouragingly too, more detailed analyses show this progress stems from improvements in most rather than just a few of the Variety Sustainability Rating components (Figure 2), notes John.
Figure 2: Variety Ratings for Key Sustainability Component 2020-2022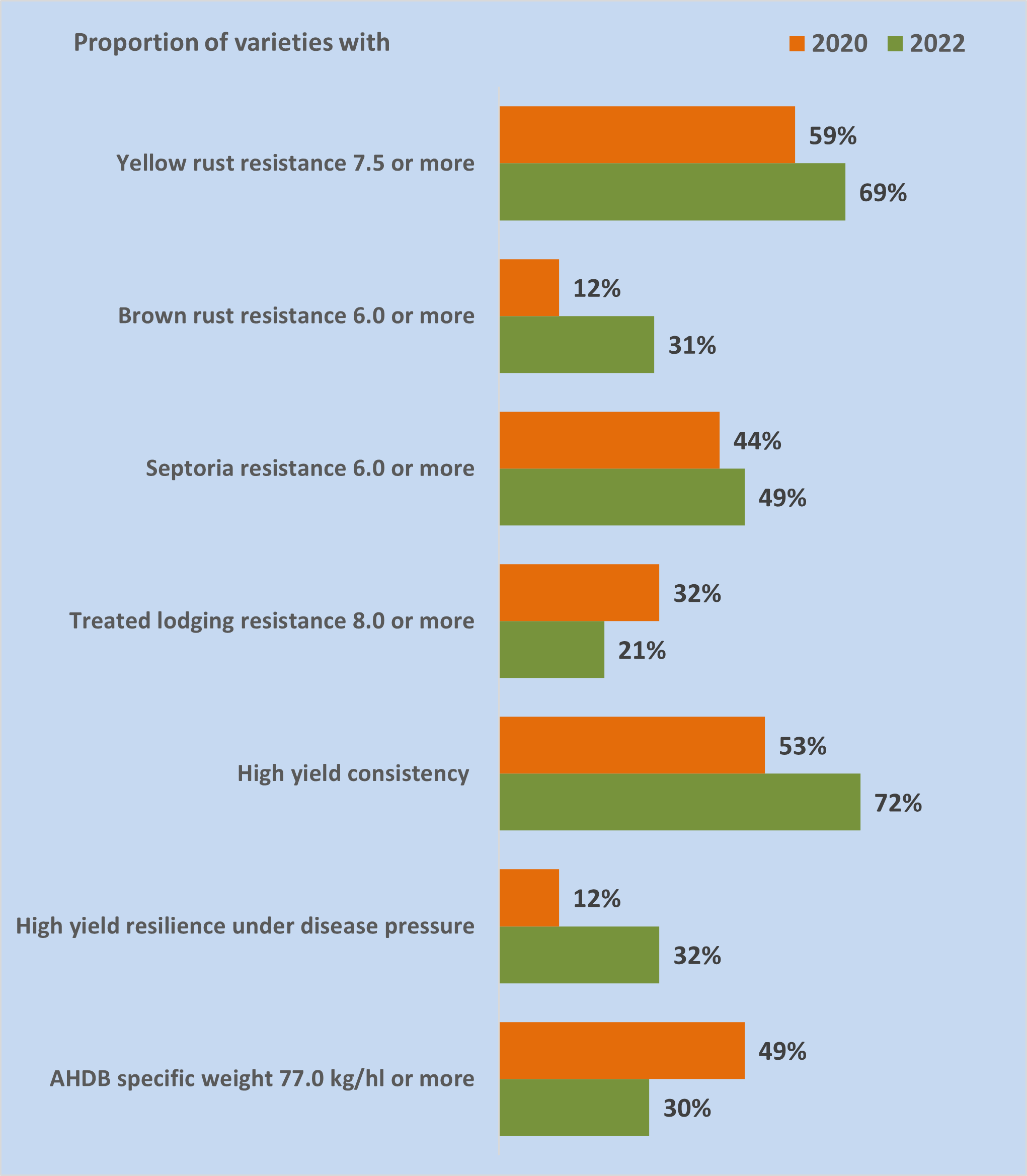 The proportion of varieties with an Agrii yellow rust resistance score of 7.5 or more, for instance, increased from 59% to 69%; the proportion with a brown rust resistance score of 6 or more from 12% to 31% and the proportion with a Septoria tritici resistance score of 6 or more from 44% to 49%.
Yield under disease pressure
Also showing a noticeable increase over the two years are both yield consistency and yield resilience under high disease pressure.
"It's more of a mixed picture with lodging resistance, though, I have to say," points out John. "Back in 2020 we rated 32% of the varieties as 8 or more for treated lodging resistance but this has dropped to 21%. On the other hand, however, there are fewer varieties with scores of 6 or less.
"While we need to watch this area of genetics carefully, overall the omens aren't too bad here. Unfortunately, this is not the case with specific weights which we see as one of the biggest concerns in wheats these days."
Almost half the varieties on our 2020 Advisory List had AHDB specific weights of 77kg/hl or more and only just over 20% were less than 76. In complete contrast, this year less than a third are up at 77kg/hl-plus and over a third below 76, he points out.
"Even more worryingly here is the fact that we invariably record three-year mean specific weights far lower than the officially-published figures," he warns. "This is mainly because our trials employ a farm regime and off-the-combine measurements for the most realistic quality expectations.
"They underline that even varieties with official specific weights of over 75kg/hl can be questionable quality-wise in commercial practice; especially in the sort of seasons we've been having recently. This is something growers need to be aware of in their variety choice and has to be a clear priority for genetic improvement."
Rate of progress
With the exception of specific weights, John says he is hugely heartened by rate of progress plant breeders have been making in so many different components of wheat variety sustainability in recent years.
He points out that even insisting on a high sustainability variety only cuts the field for 2022 planting down from 39 to 24 wheats and still gives plenty enough choice in every NABIM Group for most growing situations.
"The VSRs are just a starting point, of course, and it's vital to base your choice on exactly where a variety's particular strengths and weaknesses lie for your conditions."
"The right agronomy can easily deal with weaknesses in a wheat's yellow rust susceptibility or protect a parentage suggesting greater risk of breakdown to strains of the disease currently circulating. Less-than-ideal resistance to septoria, brown rust and stem strength are equally manageable. But only if they are clearly recognised from the outset, so drilling dates, fertiliser regimes and crop protection programmes can be tailored accordingly.
"Having said that, with economic, climatic and environmental pressures as high as they've ever been, growing wheats that are at the least risk from the most damaging diseases and lodging, the most reliable in their performance and offer the greatest flexibility in their agronomy has to be a key priority these days. Which is where our Advisory List and Variety Sustainability Ratings really come into their own."