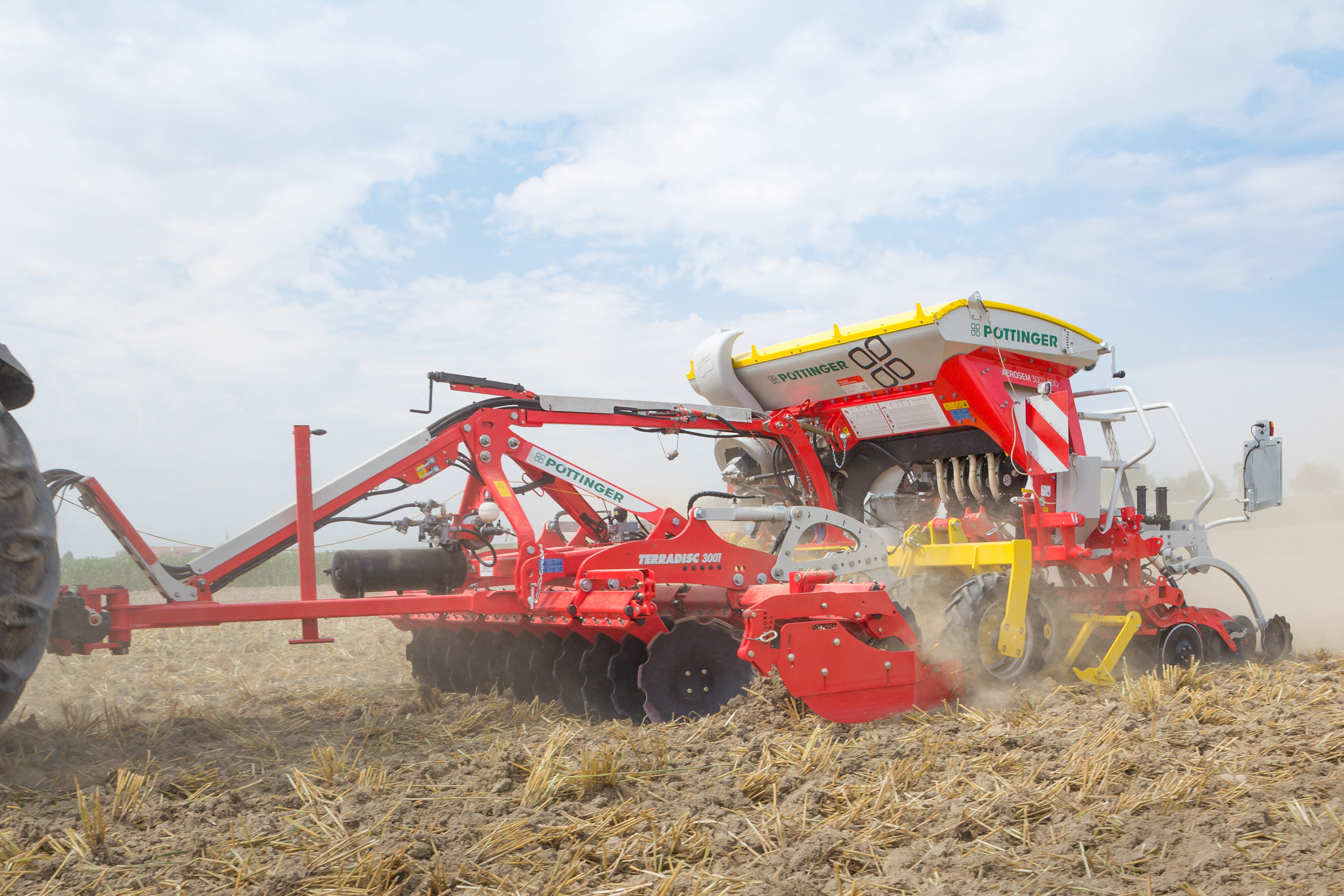 In answer to the demands of smaller and medium sized farms, CPM finds out about the modular Multiline cultivator and seed drill combination system. This highly flexible system can be specified either with the well proven Terradisc disc harrow or the flexible Synkro tine cultivator up front.
The Multiline system developed by Pottinger can be used solo as a standalone cultivator or in combination with the company's Vitasem mechanically metered or the multi award winning Aerosem pneumatic seed drills. The seed drill element if so desired can be removed in a matter of minutes thanks to hydraulically controlled linkage system, allowing the operator to single-handedly dismount the drill in a matter of minutes. The dismounted drill can also be paired up with a Pottinger Lion power harrow for the ultimate in flexibility for more challenging soil conditions. In the Multiline concept the leading cultivator takes care of the soil cultivation which is then consolidated and levelled by the full width rubber tyre packer ahead of the mounted seed drill.
The flexibility to split the combination offers a greater amount of opportunity compared to a traditional trailed min till drill system, suiting farming systems that encounter a wide range of soil types and conditions. Thanks to its trailed design a smaller tractor can be used then when compared to mounted combinations that require a tractor with a large lift capacity. This trailed system also allows for excellent manoeuvrability when turning at the field headland whereupon the cultivator and drill are hydraulically raised clear of work with the weight being borne by the rubber tyre packer. This rubber tyre packer features offset wheels avoiding harmful smearing when turning and to ensure a smooth ride both in field and on the road, along with the option to specify braking if so desired.
Well suited to tractors from 130hp the Multiline system offers flexibility, efficiency and great adaptability for farms wanting to operate with a range of cultivation systems on differing soil types.