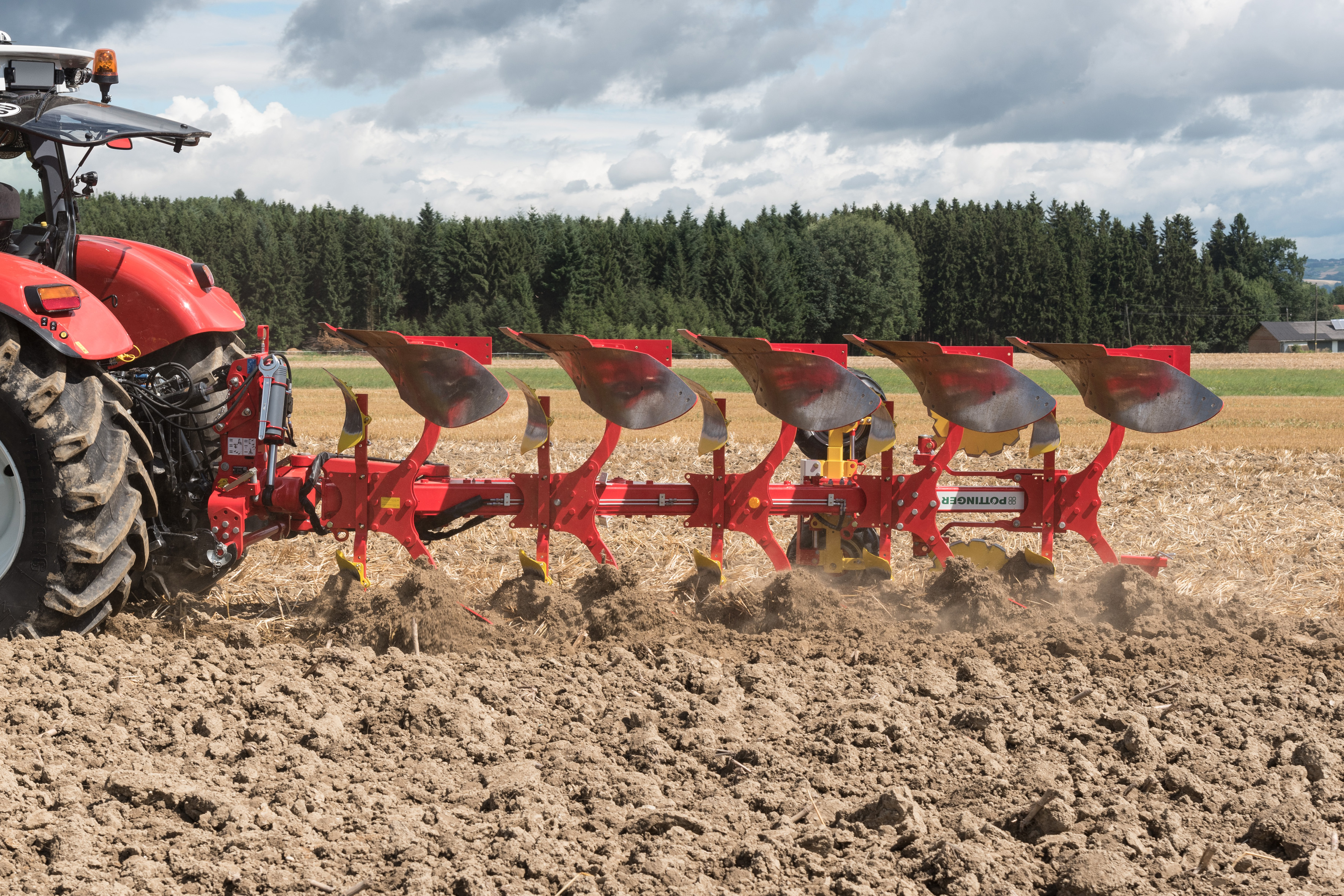 CPM finds out about a new mid-range mounted reversible plough for tractors up to 240hp. The SERVO 45M is available in four, five and six furrow versions. This robust new model offers a host of features only previously found on larger SERVO models.
Manufactured by Pottinger, the new plough has a generous interbody clearance of 95cm and a point to beam distance of 80cm ensures any harvest residues or trash is buried with ease and is available in PLUS (hydraulic variable furrow width), NOVA (hydraulic auto reset) and PLUS NOVA (combined hydraulic variable width & auto reset).
The SERVOMATIC plough setting and adjustment centre allows simple and quick adjustment of the front furrow width and plough alignment. Optional hydraulic front furrow allows for easier adjustment in difficult conditions.
The turnover shaft on the SERVO 45 M has a diameter of 130 mm and the beam link is a cast, rather than being a welded component. This makes the design stronger from the headstock to the turnover shaft and plough beam. The proven inner beam reinforcement inside the plough beam increases the flexing resistance by up to 25 percent. This unique feature thus offers high strength and an extended service life.
On hydraulic variable width PLUS models the previous memory function when reversing the plough is now replaced. A straight forward alignment cylinder which vastly reduces the number of moving components during the reversing cycle is now available. This process involves moving the plough beam to a central position rather than shutting down and opening back up the furrow width during every cycle. Ultimately wear and tear is reduced extending the service life of the plough.
A wide range of plough bodies are on offer with the bestselling wide furrow bottom 46Wc body accommodating a 710 tyre in the furrow with ease. Purchasers can select from a full range of plough accessories to suit their particular needs as required.