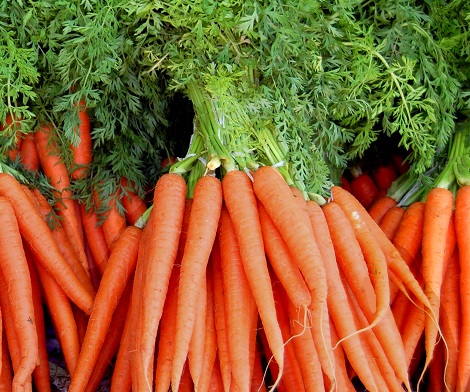 Nutritional quality of carrots boosted by 40% with tailored growing conditions
Vegetable growers could increase the nutritional value of their produce by adopting a tailored nutrient programme, potentially securing new premium markets.
According to trials data, combining key nutrients and bio-stimulants specifically tailored to each field and crop can increase the nutritional value of carrots by 40%, as well as increasing marketable yields by 18%. This has the potential to open up new health food markets at a premium price, further boosting returns to growers.
Millions of people in the UK are known to be deficient in important nutrients, according to Dr Robert Hancock at the James Hutton Institute. "As many as 25 million people are deficient in selenium, 10 million in potassium, eight million in magnesium and three million are low in calcium," he says. "Produce with higher nutrients, anti-oxidants, bio-actives and glucosinolate provides the option of a healthier lifestyle, without people having to change their eating habits."
The OptiYield nutritional programme was developed by Emerald Crop Science, with a sophisticated computer software system forecasting broad spectrum soil nutrient availability against demand in crops. OptiYield then creates a bespoke soil and foliar fertiliser programme for each crop and field. It consists of 12 different nutrients applied throughout the crop's lifecycle, alongside complementary bio-stimulants and microbial agents that significantly enhance growth and nutrient uptake.
In independent carrot trials the full programme boosted the potassium content per carrot by 24%, compared to the best practice control. Calcium levels increased by 2.5% and magnesium content rose by 54%. Iron, another key nutritional deficiency in many people, increased by 27%. At the same time, marketable yields jumped by an average of 18% compared to the control.
Simon Fox, director at Emerald Crop Science, says this demonstrates one of the most important aspects of the programme. "We only added a fraction of these nutrients through the foliar part of the programme, but by stimulating the crop at the right time with the right inputs it produces a healthy root mass that pulls all the additional nutrients from the surrounding soil," he says. In the case of magnesium, only 3kg/ha was added through the programme but it resulted in an increase of 41kg/ha of magnesium in the carrots.
"It is the stimulation to growth that provides the crop with a healthier and larger rooting system, more vigorous development and better nutrient circulation within the crop," adds Mr Fox. "This in turn stimulates greater uptake of all nutrients, including things like selenium, and we believe boosts the production of vitamins and polyphenols (antioxidants)."
Improving the quality of food has already been a success for PJ Stirling, which produces high selenium content brussels sprouts for Marks & Spencer. These sprouts sell at a premium to normal types and are a hit with customers. As a result Marks & Spencer has shown interest in other high nutrient vegetables.
"While other supermarkets have a price war going on, M&S and Waitrose side-step this by targeting measurable quality," says Dr Hancock. "As far as producers are concerned, this is another way into the market."