As wet weather continues to plague growers across the country, coupled with a nervousness around grassweed populations, ensuring optimal herbicide activity will be high on many agendas.
The first point in overcoming such adverse conditions is understanding that heavy rain moves herbicides out of the weed germination zone, explains Interagro's Stuart Sutherland.
"While there's not much growers can do about the weather, they do have options and tools to help minimise its impact," he says. "For weed control to be a success, residual herbicides must be retained in the weed germination zone – the top 5cm of the soil – for as long as possible to control flushes that germinate over time.
"This is where using an adjuvant can help – to bind chemistry to the soil and keep it where it has to be for longer, which can help to keep particularly problematic weeds such as blackgrass at bay," says Stuart.
Backrow Max
One such product is Backrow Max – a specialist residual herbicide adjuvant which can be incorporated into pre- and peri-emergence tank mixes to maximise performance in all weather conditions.
It not only enhances herbicide coverage across the soil, it also works to consistently maintain a 'lethal dose' of active herbicide in the weed germination zone. According to Stuart, it's more effective than any other residual herbicide adjuvant on the market, maximising crop safety and efficacy in adversely wet conditions.
Supporting data
Research conducted by the Institute of Soil Science and Plant Cultivation in Poland (2021 and 2022) shows that adjuvants vary greatly in their influence on herbicide retention. However, Backrow Max secures the greatest retention in the top 5cm of the soil compared with three market leading competitors applied at the recommended rates.
For clomazone and pendimethalin, 5% more of each active was retained within the top 5cm of the soil profile when Backrow Max was added, meaning a reduction in leaching.
Stuart says whereas leaching might typically be thought of as a problem for environmental stewardship and watercourse management, it's also an issue in terms of product entering the root zone of the crop itself, and that Interagro is hearing reports of this from growers following recent downpours.
Additional studies conducted at the Institute in 2023 showed Backrow Max to be equally beneficial with new herbicide Luximo, helping to retain an additional 6% of the active in the weed zone.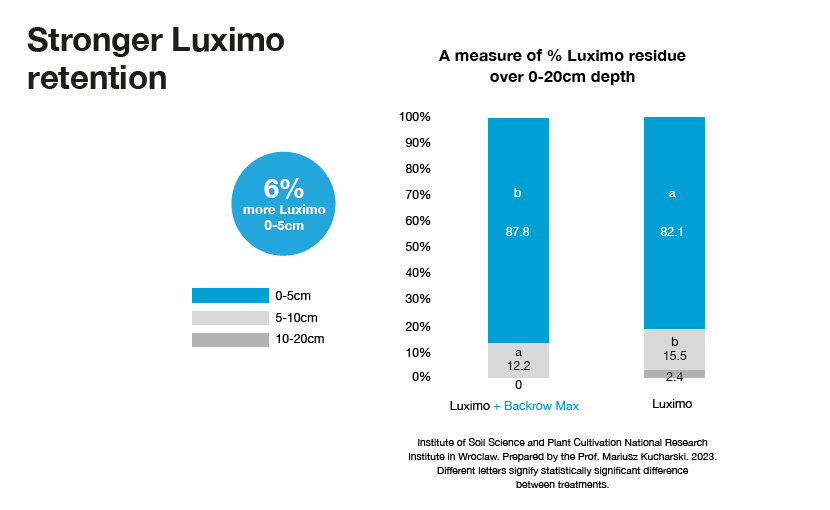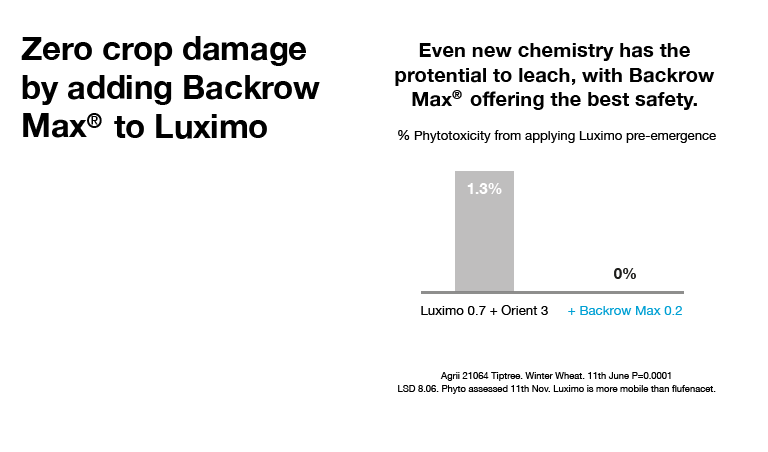 In the field, trials have demonstrated reduced phytotoxicity from adding Backrow Max to the tank – most recently with Luximo and also in trials specifically seeking to prove the crop safety benefit.
In a trial with Avadex Factor, a crop was purposefully shallow drilled to create the likelihood of damage from the active. In the direct drilled trial, there was 10% crop damage in the form of chlorosis. Where Backrow Max was included with Avadex Factor there was no crop damage and an additional 29 wheat plants per m2.
In the cultivated trial, Avadex Factor caused 20% damage to the crop but with the Backrow Max this was avoided and as a result there was an additional 11 wheat plants per sqm.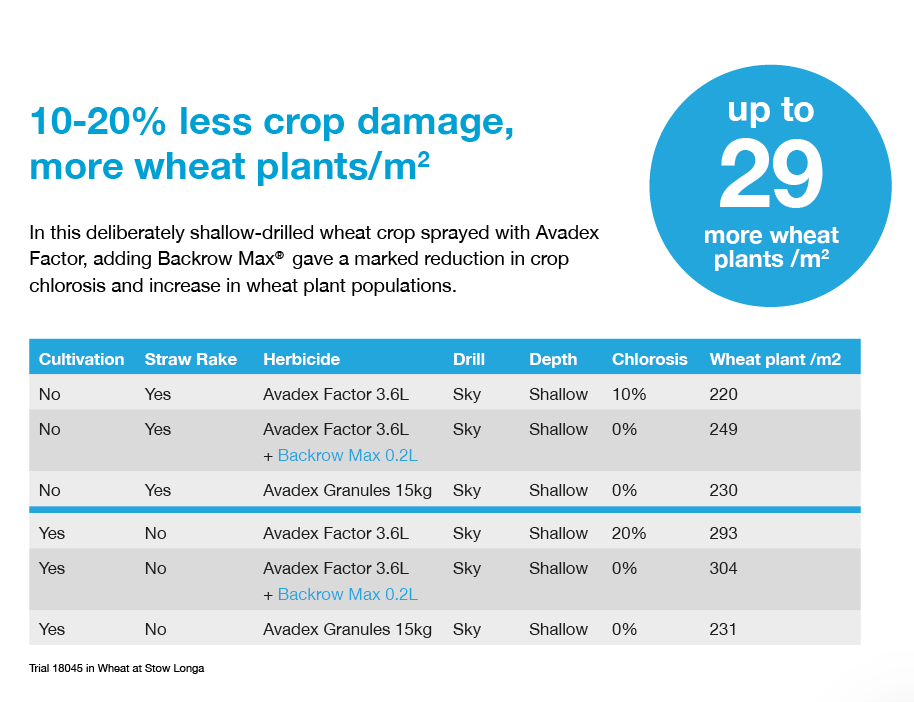 For further insight, view farmer case studies here: Keith Challen and Jon Sensecall.
Visit Interagro at Croptec on stand 2.336.